| | | |
| --- | --- | --- |
| NATIONAL WEATHER RADAR | | |
POCKET PARKS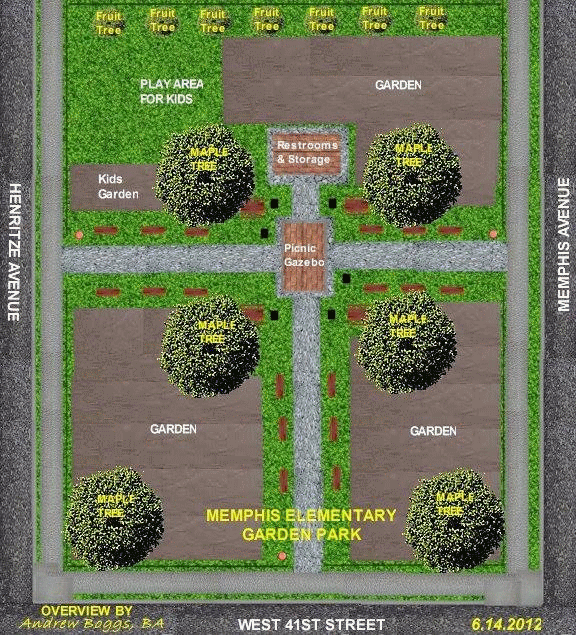 Where an early 1900's school sat later became an empty lot. Myself and others thought about how the lot could be better utilized rather than an eventual lot for junk like old abandoned cars, old tv sets and a place where rats would scurry around empty garbage bags. If you've (and many of us have at different times) passed such lots, the only thing one sees is a decrepit place that takes away from the neighborhood that surrounds it. Usually the lot's owner had pretty much let it rot in decay long abandoned paying any taxes on it.
A derelict lot has no 'curb appeal' and its effects can deteriorate the houses and streets around it. If the neighborhood is on life support already, more and more houses eventually become abandoned and drug gangs move in making an area even more dangerous. Only people who will live in the area are those who have no choice. The problem is unless a group of people meet to change an area, that empty lot stays an eyesore - a magnet for crime.
Oh that abandoned school lot I mentioned? Its no longer empty and it went through a positive metamorphous - its now an urban farm - even including chickens. The lot's location was large enough that a non-profit organization bought the property to train the developmentally disabled for careers in agriculture - food raised is divided between wholesaling to raise funds for the support of the organization as well donating fresh vegetables to food banks. Houses around the now productive lot have been improving their exteriors as well the lots they are built on.
The plans I had developed for use for a garden park - part of my ideas were used in the development of the aforementioned urban farm. The picture in this piece shows the overview of the plan I drew. Here's the thing - an organization like a nearby church needs to get involved for volunteers to gather and discuss ways to rebuild the property into a mini community park. Put together a workable acceptable plan, gather materials and build. Important, get area youth involved. The idea is that kids who help build it will have more respect for it, discouraging vandalism.
In my design I had a small gazebo, bathrooms, picnic tables, grills and benches along with fruit trees, a place for growing plants including a children's garden. Walkways are stones for better drainage and rather than grass, ground coverings that don't need maintenance. Other trees I'd suggest are Maples for shade trees as well collecting maple sap. The area is surrounded by iron fencing preventing children from running into the street.
An important consideration as well is making the 'pocket park' as vandal proof as possible - sturdy picnic tables that are well-cemented in the ground as well park benches and grills. Bathroom fixtures that are well protected from removal. An open gazebo that is sturdy. Painted surfaces treated to resist spray painting that can easily be cleaned off. Solar lighting high on slippery poles as well in the bathrooms and gazebo. Plus high-definition back-lighted 1080p color security cameras 'linked into the internet so neighbors can keep an eye on the park and call law enforcement if trouble brews.
…the nicer the well-planned pocket parks, the nicer the neighborhood becomes…
FREEDOM OF SPEECH IN DANGER
This morning (1.4.2017) I switched on my laptop and pressed on the Facebook icon and got a nasty little surprise. "You are blocked from commenting on Facebook for a twenty-four hour period." They also said I needed to remove any sexual content on my page. Then popped up a photo of the president-elect's wife in the buff I reposted from another person's Facebook page…the future first lady was au-natural with nothing hidden from a photo shoot she did as a model. Granted I'm also a cartoon panel artist and during the election cycle I put up some risqué comic panels used here on MALL 727.
However it was my anti-Trump comments that really got me in trouble. As the reader can guess, I'm not a fan. Having daughters of my own I was really turned off by the president-elect's comments about women - you know "grab them by the pussy" as well the women who came forward allegedly said the businessman turned president-elect had molested them. Now with Trump entering the Oval office, one no longer hears about the subject.
But, I'm not the only one who has been censored or threatened for practicing freedom of speech - even mainstream media has come under attack - including the New York Times, Washington Post, ABC, CBS, NBC - it seems everyone but the Fox News Channel has been told the incoming administration plans to make it easier to sue them. We'll all be watching the main news outlets to see how their 'tone' changes - especially after election day. Lets face it, Democrats lost - and freedom of speech will be greatly restricted starting officially at the point of inauguration - its occurring as I write…